Crossing over to neighbouring country and worried about the safety of your vehicle?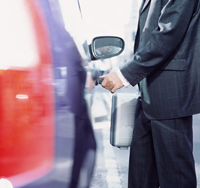 We have devised a solution that is easy to install and effective in locating your vehicle when you drive across the border.
A simple call to our call centre or via SMS, you will be able to find out your vehicle's location. You may then engage the local authorities to help recover it.
What is cross border tracking and why do we need it?
Vehicle thefts have steadily gone up from 82,954 in 2006 to 85,080 in 2007 and 88,820 in 2008.
Cross border tracking is a service provided for people who drives across the border and would love to have a peace of mind that their vehicle can be easily detectable, thereby increasing the chance of recovering your vehicle.
How it works?
A device is planted onto your vehicle.
Once you have crossed the border, the device will automatically activate.
In case of any emergency, contact us!
What do we need from you?
Your vehicle number plate and its current location
A deposit for hardware (refundable when you return the hardware)
Start and end date of your trip
Note: The earlier you inform us the date of your trip, the more effective this solution will be.